"Objet D'Art" is the second installment in our Curate Your Walls! Cheap & Chic series. Here we feature unique objects all under $200 to hang on your wall, adding dimension and personality to an otherwise flat space. We've found something for every taste—from decorative plates for the traditionalist to neon sign art for slightly edgier tastes. Check out our Pinterest board for more object d'art finds!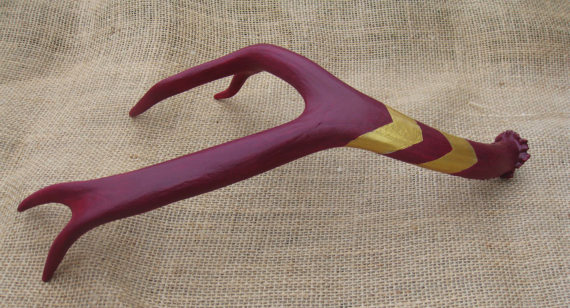 1-4: A New Take on Taxidermy
Stuffed animal heads and mounted antlers not your style? Opt instead for these beautifully sculpted resin animal heads from White Faux Taxidermy, or these hand-painted antlers from Natural Elements by Ashley.
5,6: These Aren't Your Grandmother's Plates
Artful configurations of antique and contemporary plates lend a fresh take on what your grandmother once displayed. Shop John Derian, Etsy, and Palazzetti for a range of styles and price points.
7, 8: Custom Neon Signs = Contemporary Art at Home
Neon word art is a hot trend in contemporary art, and now you can recreate the urban artist look in your own home! Check out Bright Neon Signs for a custom quote, and turn your favorite phrase or line of poetry into a unique, contemporary showpiece.
9, 10: Geometric and Organic Wall Sculptures
Drawing inspiration from natural forms and shapes, Hruskaa and Element Ceramics provide a number of stunning 3D wall art options.
11-13: Direct Wall Art
Aren't ready to splurge on a mural-sized original painting? Opt instead for watercolor wallpaper to transform your wall into a work of art itself. And if you're looking for a smaller but no less striking accent, wall decals provide chic, interesting wall décor at
ow-cost and minimal commitment.
Next up: our final post in the Curate Your Walls! Cheap & Chic series where we help you put it all together in a salon-style gallery wall hanging. We will even give tips on where to get affordable frames!